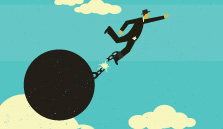 by Una Hearne.
'Selling yourself' is a phrase I dislike. I used it because it will accurately indicate to most of you what the subject matter of this blog is.
I want to talk about how we communicate who we are, what we have to offer and what we want. This is something we have to do in most areas of our lives, for example in job hunting, running a business, raising our profile, socialising and relationships.
I dislike the phrase 'selling yourself' because of course you are not. You may be selling your time, the use of your brain or body – but you never sell 'yourself'. You are so much more than what you do.
So the reality of what we mean by 'selling yourself' is 'communicating effectively who you are, what you are offering and what you want in return.' No, I grant you, it's not as catchy.
However, let's not dwell – the point is we all have to pay attention to this now. Our world changes every day and we can no longer get through life without having to interview, network, date, negotiate, build relationships, exchange information etc.
You communicate most confidently and engagingly when you are clear about who you are, what you offer and what you want. Nobody apart from you can figure out what these are for you. Marketing professionals and recruiters can help us if they understand this information too but they absolutely can't create your story for you. There is help available to you – for example, as a coach I specialise in helping people figure out their own answers. I help people to explore their core values (a very robust way of getting a clear idea of who you are); all of the things they have to offer (90% of which they have forgotten or take for granted); and then I help people to explore what they really want in their lives. Good communication follows naturally when people gain real clarity in these areas.
My way of working is not the only way, you are the explorer in your life and there is a wealth of help available in the area of personal awareness and development. We all need various kinds of help at various times in order to get to know ourselves and gain clarity. Being proactive about this and understanding the inner journey is as much a part of life as the outer journey leads us to a richer more rewarding experience of life. Go explore yourself, you're fabulous. I checked.
If you like this blog, please share it!