52 Starting a business the easy way!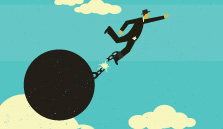 by Una Hearne.
Flagrant use of attention grabbing title. Apologies. Of course there is no easy way.
I am good at asking people for advice and help. So when I started my business I found successful clever people and asked their advice. Let me tell you what I have learned about setting up a business:
There are a few standard things everyone tells you – and they are right:
Do a business plan; Understand the money and keep the accounts straight; pay your taxes correctly; Make sure you know what you need to about the law and comply; Get the best people on board; Know what you are selling better than the back of your hand; Know your customers inside out; Connect with them; Make it easy for people to buy from you; Give superb value and customer service; The more organised and automatic your systems, the lower your overheads, the greater your profit.
All good so far? no arguing with any of these and this information and lots of tips is available all over the place.
After the basics, every expert will have different advice on how you could and/or should do all of these things. And paradoxical as it sounds, they are all right. They must be, because they are sharing what worked for them. They did it their way– and you can benefit from their experience.
But you can't do any part of your business many different ways at once. You don't have time apart from anything else! You have to choose one strategy and take one set of actions. The bottom line is that you have to figure out what you are going to do.
So here is my inexpert-learned-as-I-went-along advice:
Do research. Before and as you build your business. Find out as much as you can about your business, your product, your competitors and your customers.
Ask lots of people what they think of your ideas and plans, checking you are making sense is very important. Other people's opinions are not right or wrong and they are valuable to you. Listen to everybody and thank them for sharing. The go do it your way.
Do training, when you need it. It is sometimes essential. Make use of the enormous quantity of learning available online for free. But realise it won't make a difference to your results until you are out there taking action and trying things out. That's when good training kicks in and accelerates your learning and progress.
You have to learn your business. Whether you are learning a tried and tested business model or making it up as you go along. You have to do the legwork and the learning. Find a way of consciously learning as you go. If you learn one thing every day, count a victory!
Mind yourself. You need to be in good shape to run a business! Easy to say, not so easy to do so keep it on your to do list.
Business, like every endeavour in life is all about this basic process:
Figure out what you want – create a vision
Plan how you are going to achieve your vision
Research, take action, deal with obstacles
Review, learn. Rinse and repeat.
If you liked this blog, please share it!