by Una Hearne Spooky magic happens with written goals. I have experienced this with my own Vision and goals as well as with clients'. We write specific goals, descriptive, detailed and as fully fleshed out as possible. From houses to job descriptions, life partners to behaviour change with specific results. Vision after Vision, goal after goal has manifested in spooky detail. Not all goals mind you - but far more than you would expect by chance - enough to make it seem like magic. I like to understand things and I like to be ...
by Una Hearne. (Every time I talk about plans or visions or goals I feel the need to preface it with this: Don't get caught up in the words - if you don't relate to the word Vision, substitute in your mind whatever word works best for you, dream, strategy, objective... OK? Thanks :-)) So you put the work in and figured out what you want in life. You have a big Vision and a Plan. You are barrelling along making your dream life / job / relationship happen when, wham, all of ...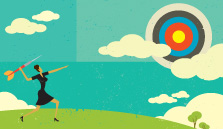 by Una Hearne. (Note I always use the word vision - if you don't like this word or it doesn't resonate with you please substitute whichever of the following you prefer:  goal, dream, outcome, mission, objective, desire, aim, target, intention, destination). It is good practice to have a vision for your life. To be a conscious participant in creating your life. The important thing is to have a specific direction to set off in. The next most important thing is not to be too rigid about the outcomes. Hold your vision lightly, be prepared to adapt ...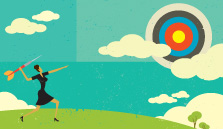 by Una Hearne. By authentic, I mean right for you, in your life. And by dream, I mean dream, vision, aim, outcome, goal, plan, wish, desire - whatever word works for you and means 'the way you want you and your life to be'. Like all life choices, whether to pursue a dream or not is a personal judgement call. However, over the years I have learned there are some key characteristics by which you can recognise if a dream is authentic, the more of the following that apply the more likely you should ...
by Una Hearne. Easy! When you have reached your goal. You got the job / went on holiday / got promoted / have a successful business or whatever. Right? Well. Maybe. And then again, maybe not. It depends on what you personally mean by success. We have all sorts of notions of what success means - money, houses, cars, lifestyle, achievements, awards and accolades, the lovers, the family, the friends - all that nice stuff. The feeling of being successful of course comes from inside you. It is the meaning that you personally attach to the stuff ...