by Una Hearne. The practices which improve your quality of life tend to be so simple we dismiss them. That's a pity since they can make a huge difference to our quality of life. Today, I'm going to suggest reframing as a practice. Your experience of life happens in your head. Your perception and interpretation of life is your reality. Now, some events and behaviour will trigger instant negative emotions in all of us - betrayal, bereavement, disappointment etc. These initial reactions and emotions are quite natural. They are not the majority of your life experience ...
by Una Hearne. So I've been thinking about how the world has had to adapt to significant changes and losses because of Covid and how I came to terms over the past three years with changes and losses because of ME/CFS. Happy to report I am now at the point where I am at peace with ME/CFS. Not saying anyone else should be or needs to be. Just that I needed to get to this point, to stop losing energy in resentment and sadness. How I would love to report that it was a swift and peaceful process. That I gracefully accepted my new ...
by Una Hearne Too late? You did? How's that working for you? You probably know by now they don't usually work. And then they make you feel bad about yourself. What a terrible way to start a new year. Here's a better idea. Get yourself a cuppa, a notebook and snuggle up in your favourite chair. Now: Write down all the brilliant things you did and that happened to you last year. Ok I know, you immediately think of all the bad things that happened and failures. Don't worry this is normal. You can't not ...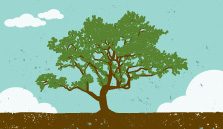 by Una Hearne. So you lost your job, have been in an abusive relationship, are in debt, might lose the house, are facing serious illness, lost a loved one. Sometimes life throws you a big nasty. None of us are exempt. And all you need when you are experiencing one of these is to have some ar**hole come up to you when you are still reeling and tell you 'Every experience is a gift, you should try to find the good in this.' Slap face. It is ridiculous when in the initial stages of ...